Fra le donne di Laayoune, territori occupati Saharawi
(2012-08-28, Il Fatto Quotidiano) Nonostante i suoi abiti civili, non c'era alcun dubbio che l'uomo che ha fatto irruzione dal lato passeggero della Toyota, cercando di bloccare le riprese del pestaggio di una donna da parte dei suoi colleghi –alcuni in uniforme, altri no- che Mariah, mia figlia diciassettenne, stava effettuando con la sua Nikon, fosse un poliziotto. L'otturatore di Mariah è stato più veloce di lui, così le si è scagliato addosso nel tentativo di strapparle la videocamera e graffiandole il viso. Mariah ne è uscita illesa. La donna in strada no.
Poche ore dopo Mary Lawlor, Direttrice di Front Line Defenders, ed Eric Scottas, Fondatore di World Organization Against Torture, si sono recati presso l'ospedale locale per intervistare Soukaina Jed Ahlou, Presidentessa del Forum delle Donne Saharawi, che, nello scontro con la polizia, aveva riportato ferite ed abrasioni.
Non siamo stati gli unici testimoni. Un gruppo di donne vestite con i tipici abiti colorati Saharawi, composti da un lungo drappo di tessuto nel quale si avvolgono con grazia dalle caviglie alla testa, aveva circondato la loro sorella durante la protesta nel vano tentativo di difenderla dalla polizia. Abbiamo visto un poliziotto in uniforme blu. C'era anche un gruppetto di teppisti, che i leader delle organizzazioni locali in difesa dei diritti umani che erano con noi ci hanno indicato come membri delDST, la versione marocchina della Stasi. Inoltre c'erano anche due informatori in borghese che ci hanno seguiti tutto il giorno –quando Mariah ha tentato di scattare loro una fotografia hanno tentato di coprirsi i volti e poi di nascondersi dietro la macchina. Un paio di teppisti ha tentato di nascondere il pestaggio della donna alla nostra vista, mettendosi davanti ai vetri della macchina su cui ci trovavamo. Un terzo ha insultato Mariah, appellandola in modo irripetibile e bloccando la macchina fotografica con la mano.
Aminatou Haidar, vincitrice del Robert F. Kennedy Human Rights Award nel 2008, ha subito riconosciuto i membri del DST. Uno di loro, calvo e con la barba, Al Hasoni Mohamed, era lo stesso uomo che aveva avvicinato suo figlio tredicenne minacciando che lo avrebbe stuprato fino a renderlo paralizzato.
Conosciuta come "la Gandhi del Saharawi", Aminatou è una dei più importanti attivisti dei Diritti Umani del Saharawi. Da oltre 20 anni ha ingaggiato una resistenza non violenta contro l'occupazione marocchina della sua terra natìa. Le autorità del Marocco l'hanno detenuta illegalmente, imprigionata, picchiata, torturata e minacciata di morte. Ha trascorso quattro anni e mezzo in isolamento, bendata. Nonostante gli abusi dei militari, Aminatou considera i cittadini marocchini suoi "fratelli" e mantiene coraggiosamente il suo impegno non violento battendosi per il rilascio dei prigionieri di coscienza, cercando di rafforzare i diritti umani della popolazione locale attraverso sistemi di monitoraggio e premendo affinché il referendum –concordato da entrambe le parti più di due decadi fa e che farebbe sì che le popolazioni Saharawi possano votare in futuro – sia finalmente attuato.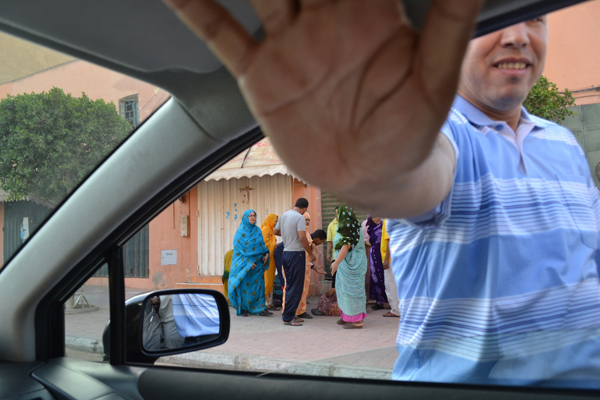 La violenza a cui abbiamo assistito non è stato un incidente isolato. Abbiamo incontrato una dozzina di donne i cui figli e mariti sono stati picchiati e si trovano tuttora in prigione a causa del loro attivismo non violento. Abbiamo incontrato un gruppo di uomini che ci hanno mostrato dei video in cui dimostranti pacifici venivano attaccati, presi a calci e picchiati con manganelli da poliziotti in uniforme ed in borghese. Abbiamo parlato con un gruppo di avvocati che hanno detto che dal 1999 in poi hanno rappresentato oltre 500 casi come quello a cui abbiamo assistito oggi, dimostranti pacifisti aggrediti, picchiati e, troppo spesso, uccisi e sempre, sempre accusati di qualche crimine. Ma in tutti questi anni le corti competenti hanno dichiarato innocenti solo tre vittime Saharawi.
L'ufficio regionale del governo marocchino ha dichiarato che Jed Ahlou non è stata picchiata e che si è trattato solo di una messa in scena. Non è quello che è sembrato a noi. Le sue ferrite ed i suoi lividi, insieme al suo pallore, erano assolutamente reali.
Mi trovo qui per una missione di una settimana con una delegazione del Robert F. Kennedy Center for Justice and Human Rights per valutare la situazione dei diritti umani sia nei territori Saharawi che nei campi per rifugiati in Algeria, dove vivono molti Saharawi. Ne abbiamo avuto un assaggio il primo giorno, e ne rimangono ancora sei.
I membri della delegazione del RFK center sono: Kerry Kennedy, Presidente del Robert F. Kennedy Center for Justice and Human Rights (USA); Mary Lawlor, Direttrice del Front Line Defenders (Irlanda); Margarette May Macaulay, Giudice dell' Inter American Court (Giamaica); Marialina Marcucci Presidente del Robert F. Kennedy Center – Europe (Italia); Eric Sottas, ex Segretario Generale del World Organization Against Torture (Svizzera); María del Río, Membro dei Trustees della Fundación José Saramago (Spagna); Santiago Canton, Direttore dei RFK Partners for Human Rights, Robert F. Kennedy Center for Justice and Human Rights (Argentina); Marselha Gonçalves Margerin, Direttrice dell'advocacy del Robert F. Kennedy Center for Justice and Human Rights (Brasile); Stephanie Postar, Assistente del dipartimento di Advocacy del Robert F. Kennedy Center for Justice and Human Rights (USA); Mariah Kennedy-Cuomo (USA).